Digital Marketing in Kenya: A Comprehensive Guide to the Latest Trends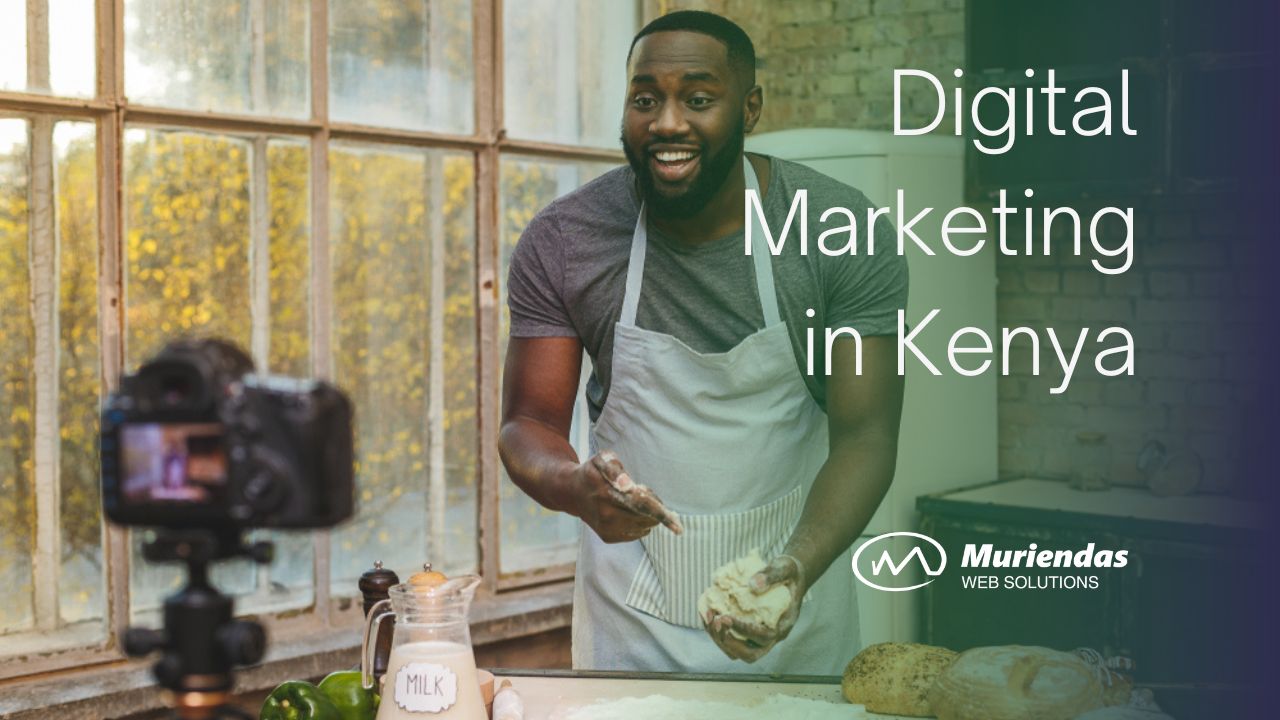 Digital marketing in Kenya is fast-paced. New trends and techniques emerge regularly, forcing marketers to keep up with the latest developments and maintain their competitive edge. To succeed in today's digital marketing landscape, brands need to keep track of the latest trends while staying informed about new opportunities and challenges. This comprehensive guide explains everything you need to know about digital marketing in Kenya.
What is digital marketing?
Digital marketing is a marketing strategy designed to increase sales or grow your business through digital channels such as social media, email, websites, and mobile apps. Digital marketing is any marketing technique that uses websites, apps, social media, email, and other digital platforms, In other words, a marketing strategy using digital channels to drive business growth and build brands.
Statistics supporting the concept of online users
Now, did you know that Kenya is leading other African countries in terms of smartphone penetration? The rise of smartphones has revolutionized digital marketing in Kenya as we know it. This is the same across the world.
The Kenyan population is relatively young and numbers show that 75% of the population is under 30 years old. A younger population is more receptive and adaptive to technology as compared to the older generation. This is why technology is shaping the country and contributing more to the GDP of the country which is now at 5.7%.
More and more users are accessing information through smartphones and other smart devices. Mobile penetration in Kenya is at 91% compared to 80% for the rest of Africa. Around 83% of Kenyans access the internet through their mobile phones. This number is the highest in Africa and very impressive worldwide.
Google data shows that there are 13 million active users of their platform in Kenya. Social Media has also contributed largely to the increasing numbers of internet users as it is estimated that there are more than 8.3 million Kenyan users on different social media platforms. It is also estimated that these users spend more than 3 hours a day on different social media platforms.
Whatsapp is by far the most popular with Youtube, Facebook, Instagram, and Twitter followings. It is estimated that there are about 8 million active users monthly on Youtube, 7.1 million on Facebook, 4 million on Instagram, and 1 million on Twitter.
Smartphones are increasingly becoming a necessity and the numbers are set to grow even more in Kenya. The digital space in Kenya offers a unique chance for every business owner to directly reach out to their potential customers. The future of digital marketing in Kenya is upcoming and very promising. Phones offer direct access and will be the driver of digital marketing in Kenya and across the world
Digital marketing strategies used
Some of the different digital marketing strategies that we at Muriendas use include;
Website design – A great website design can help you attract more visitors and convert them into customers. A professionally designed website is essential for any business. It's your online storefront and the primary source for generating leads and revenue for your business.
Search engine optimization (SEO) – SEO is the process of optimizing your website to rank higher in search engine results. Your website is your online business card and is an essential part of your online marketing strategy. Having a strong online presence is crucial for success in today's business world.
Google advertisement – When people want to know what to do, where to go, or what to purchase, they turn to Google. Your digital ads could appear on Google at any moment, alerting people to your products and services. Regardless of whether they're on desktop or mobile, well-timed ads may turn people into valuable customers.
Email marketing – Email marketing allows you to build relationships with your customers and build trust by sending them relevant content such as tips for using your product or information about your company. Email marketing is one of the most effective marketing techniques.
Social media – Social media offers a variety of benefits. It's a great way to connect with your audience, share content, and drive traffic to your website.
Video marketing – Studies show that video marketing is one of the most effective marketing techniques out there. With the advent of online video platforms like YouTube, creating and publishing videos has become easier than ever.
E-commerce – Setting up an eCommerce store allows you to sell your products or services online. An eCommerce store is essential for growing your business and reaching a wider audience.
How does digital marketing work
There are several ways to approach a digital marketing campaign. As a digital marketer, you have in your toolbox a wide range of tactics, strategies, and channels that can be employed to connect with your audience. Generally speaking, digital marketing campaigns involve several common steps:
Define your marketing goals
Digital marketing is a wide-ranging field. So it's important to establish your goals before starting a digital marketing campaign. For example, do you want to build brand awareness? Acquire new customers? Focus on retention and customer loyalty? Outlining goals helps you tailor your strategy and budget to maximize your impact.
Identify your target audience
Whose attention are you trying to get? The more details that you can find out about your target audience (age, location, income, etc.) the easier it will be to determine how to connect with them.
Identify the right marketing channels and marketing tactics
Now that you know who you want to reach, you need to decide how (and for how much) you want to reach them. Suppose you're a business-to-consumer (B2C) digital marketer trying to connect with younger customers. In that case, you might allocate more of your budget to social media advertising on specific platforms rather than put the majority of your efforts, and money into blog publishing.
Develop and optimize content and messaging for each channel
Analyze your data and try to find out as much as you can about your audience. For example, if you know that your customers prefer browsing on their phone versus a laptop, the content they receive will need to be optimized for mobile viewing. But that may not be enough. Customers interact with brands across a variety of channels in a nonlinear fashion. So you need to make sure that every piece of content has a consistent brand voice and messaging. Consistency prevents confusion about what your brand is and the value you provide.
Campaign measurement across key metrics
Measure across key metrics and iterate based on those results. If you don't measure your performance based on the key metrics you defined earlier, how will you know whether the campaign is doing well or continuously improving? Measuring results over time ensures that you're connecting with customers, driving loyalty, and building brand advocacy
Reasons why you should invest in digital marketing in Kenya
Without any doubt, the future of digital marketing in Kenya is really promising. With that said, here are
reasons why you should use the digital space to market your products and services in Kenya;
Numbers don't lie – There is an average of 3.5 billion searches a day. Some of these are your potential customers.
The future is digital – Statistics show that more and more Kenyans are going online with the internet penetration rate standing at 89.8%. With the rise in the popularity of smartphones, digital marketing will be the future of marketing.
It is CHEAP – If you compare digital marketing to other traditional forms of marketing, you get a better return on investment with digital marketing. We all know how much Kenyans love anything cheap
It is Measurable – When it comes to digital marketing campaigns, you can easily get all the statistics about the performance of your campaign. You can measure the effectiveness of everything you do. Now, tell me how many people saw the billboard you set up last month. Well, the best you can do is approximate.
The world is now an open market – Digital marketing has made the world an open market and your reach is now unlimited. You can practically market to any part of the globe that you wish to. Imagine how much of a hustle it used to be for tour operators in Kenya with their target market out there? Now all they need is a computer connected to the internet
How to start with digital marketing in Kenya
The digital space in Kenya and indeed the world is a very dynamic place. Nothing is certain. Things change at a very fast pace online, and a strategy, or platform that works for one product might not work for another.
For example, even within the East Africa region, the dynamics are different. What is popular or works in Kenya might not work for Tanzania or Uganda. Therefore, you need to have a clear understanding of all the dynamics in your region.
It all starts with understanding your target market.
There is no particular place to start with digital marketing, especially if you are a startup. With a clear understanding of your marketing online and needs, you should start where you can and work on making the strategy better as you go.
In Kenya, social media will be the best bet. That is where you would ideally start from. It takes less effort, is easy to get started and you can manage it in the initial stages. Facebook and Instagram have the largest following in Kenya with a combined 11.1 million active users monthly.
However, if you want a more professional approach to digital marketing in Kenya, a website is what you should think about first.
That's where Muriendas Web Solutions comes in.
We come up with a brand book and brand guidelines. The next step is to buy a domain and hosting. Domain and hosting for websites are very cheap and you can get a very good package for as low as Ksh 4000 per year. This will also get you the corporate email addresses that will use for your communications.
The next step is to create an appealing logo and design a website in line with your brand guidelines. Websites are not costly as many would want you to believe. The web design cost will largely depend on the type of website that you want and the scope of work.
There are different types of websites and different types of functionalities that you may want for your website. These will define the scope of work and hence inform the price for website design.
Types of websites include:
Ecommerce Website
E-learning Portal
Insurance Website
Finance Website
Educational Website
Entertainment Website
Business Website
Portfolio Website
Blog/Magazine Website
Listing Website
Nonprofit Website
All these types of websites can have diverse functionalities. It will depend much on what you want to achieve. You can start with a basic concept and upgrade the website when the need arises.
You can get websites at very affordable rates from as Ksh 10,000 for one-page websites. Ecommerce websites and Web Portals are the most expensive and you may have to budget between Ksh 150,000 to about Ksh 1,000,000 subject to the scope of work.
Once we are done with creating your website, we then set up your social media accounts and lay out your strategy. We must make sure that your social media accounts are also branded according to your brand guidelines. Descriptions and all information should be optimized to ensure uniformity across platforms.
You can start out growing your following organically. You can either get someone dedicated to managing your social media accounts or get a digital marketing company in Kenya to help you manage your accounts.
Remember, whatever the digital marketing strategy you choose to begin or focus on, it is all about content. Therefore, ensure that you generate good and engaging content that you can use to market your brand.
We also explore other long-term strategies such as SEO and Email Marketing. If you already have an email list, you can work on different email campaigns you can target your prospects.
Search Engine Optimization is one of the best strategies that we use. However, it requires months of consistency to reap the benefits of SEO.
Remember, wherever you start with digital marketing, it is all about content and understanding your target market.
Conclusion
It is crucial to have an online presence if you are not currently online. Digital marketing in Kenya is simple and economical. All you need is the internet. Start wherever you can, and fine-tune as you go. Constantly track the performance of your marketing strategies by gathering statistics. Don't be afraid to experiment occasionally as you learn what kind of content your target customers absorb.
Use your competitors' victories and blunders to continually enhance your online marketing campaigns. Manage your brand's reputation by following mentions and learning everything people are saying about your brand. Encourage reviews and testimonials so that you can improve your products and services. Gather feedback from your clients so that you can improve your products and services.
Make digital marketing the best choice for your brand this year and invest in it fully. Thank us later!
subscribe to our newsletter